For the past two-ish years, you couldn't escape headlines about the record-breaking housing industry all over. The number of competing bids on a single property was astonishing, as was the sale price of homes, sometimes going for hundreds of thousands of dollars above asking. As you've probably seen, the rhetoric has recently changed with Ontario taking the lead on a slowing housing market. Inflation is affecting the real estate market in each locality differently, and it is important to learn about the Province, City, and Community your investment is located in.
Alberta 
Alberta has experienced property increases over the last year, and to date, this has reduced the pace of increase in value, and increased supply (listing). An RBC report from June 2022 forecasts property price decreases of 2-5% over the next year in Alberta.
Ontario 
You cannot escape headlines about people being underwater, dollars away from losing their homes they overbid on, and experiencing a housing correction, especially in Ontario. The June RBC report predicted Ontario's property prices to decrease 13% over the next year.
Canada-Wide
Canada-wide, it is generally agreed that downward price pressures will affect the Housing Price Index in most major cities due to inflation. You can directly see pricing trends in your areas by consulting the Housing Price Index (HPI) tool, which we have linked below. In addition, contact your trusted local Realtor if you are close to listing your property: ask for data in the specific community you will be listing to get details on sales volume over the last 60 days, HPI or average price trends, and days on market trends. Don't assume that downward price pressures in the province will be felt in each city or community in the same way: as with all real estate investment analysis, it is always local.
The alarming headlines and projected falling benchmark prices may have you feeling cautious about taking on new projects, or nervous about ones that you already have on the go. If you're experiencing any of these feelings, you're not alone. But we're here to tell you that if you have a plan, and if you stick to it, this is the best course of action to maximize profit.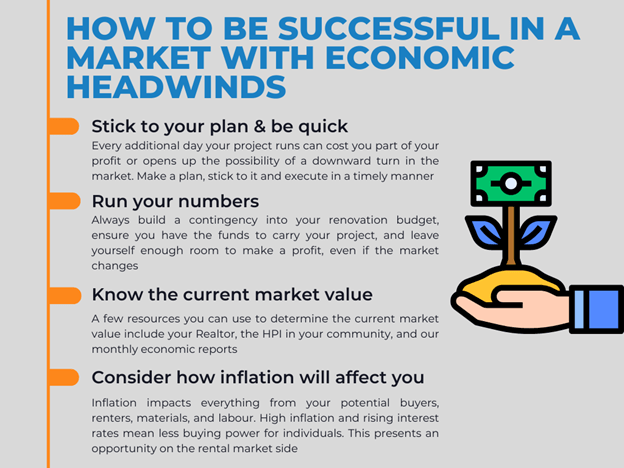 At Calvert Home Mortgage, we strive to support you as best we can by providing resources, educational material, and access to a knowledgeable team that Underwrites your profitability on all projects. We are always available for your questions or to walk you through market research. Read on to hear about factors that contribute to a successful flip or Buy, Renovate, Rent, Refinance (BRRR) project, access resources to consider the current market value, and learn how to manage your profit and risk and find opportunities in a slowing housing market.
How to conduct a successful Flip or BRRR
First, let's dive into some tips you should always follow for your projects.
Buy Right. Especially in a downward market, you're going to make money on the buy. Purchasing below market value is going to give you a larger profit margin. Discovering your seller's pain points can help you solve their problem and reach a mutually beneficial agreement, sometimes being a lower purchase price.
Renovate and list or refinance quickly. Ensure your trades are secured beforehand and ready to go. If you have multiple projects on the go, does your team have capacity? Have your property listed for sale quickly or begin the process of refinancing as early as you can to protect and maximize your profit. Your Mortgage Broker can help you with the process of refinancing.
Put together a sound reno budget, with a timeline, and stick to it! It's a good idea to build in a contingency to your renovation budget to accommodate unforeseen circumstances or rising material/labour costs. Be as detailed as possible and do your research on the neighborhood standard so that you don't over or under-renovate. Keep in mind too the standard of renovation might differ between a flip and a BRRR. Finishings in a rental should be focused on durability and longevity, and flips might require a little more emphasis on design and high end finishings, depending on the neighbourhood. For this reason, turning a flip into a rental and refinancing instead of selling might not be the optimal plan. In some neighborhoods, updating systems such as Poly-B can return value just like finishings, sometimes more when combined with finish updates.
Choose a Realtor who knows the market and neighborhood well. They can help pull good comparables and help you determine an appropriate degree of finishings based on the neighbourhood standard. When you list a property, be in touch with your Realtor often so you know how the showings are going; How many have there been and what is the feedback? Your Realtor will be able to compare this to their other experience, specifically in the same neighbourhood which ties into the next point.
Price accordingly. Price your property competitively to sell and update it periodically to stay competitive. Your Realtor will monitor showings and can help you determine if the activity is likely to produce a sale; if the activity is low, consider if the price is competitive enough to attract the available buyers in the market. The worst thing you can do is ride the market down. If you wait out the sale of your property by pricing too high or hesitating to sell, you could be setting yourself up for a lower sale price and farther in the future, both of which affect your profit. If this is a rental property, do your research on similar properties. A great resource for finding market rents is Door Insight. What are people willing to pay for your property realistically?
Stage your property well and take quality photos for the listing. Staging can help buyers envision themselves living in the property. This applies to rental properties as well. Tenants have an easier time picturing themselves in the home when there's furniture and nice photos will attract their interest and make your property stand out.
Running your numbers
You must know how to properly run your numbers on every project, particularly in a slowing market when uncalculated errors won't be so forgiving. This goes for flips and BRRRs.
When conducting a flip, ensure you build in a contingency in your renovation budget. You need to have funds to carry out the project to cover your mortgage payments, insurance, utilities, property taxes, and anything else required over the duration of the renovation. You should also leave yourself enough room to still make a profit if the market drops by the time you sell.  If your profit margin is narrow, your risk increases.
Some of the same points apply for a BRRR although your end goal is different, and cash flow as well as cash on cash return are important for these projects. When projecting your cash flow, always build in costs including maintenance and repairs, property tax, vacancy, utilities, and insurance.
We have a great flip analyzer for analyzing your deals. Access it here.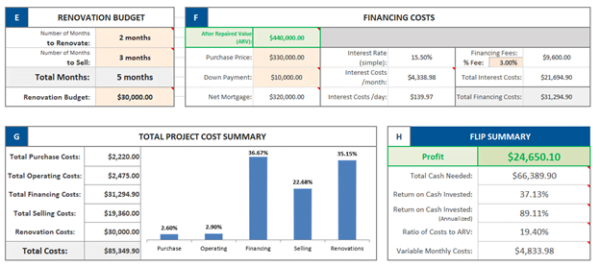 (Sample Alberta Flip Analzyer).
Learn more about the numbers in the flip analyzer.
Resources to utilize to consider the current market value
Finding an accurate value for your property is easier said than done. There are multiple different factors that impact the market value of your property and Calvert Home Mortgage builds this into our Underwriting. If you manage your own profit and risk, then you are effectively managing ours. That's why we provide resources to aid our borrowers in making decisions that will ensure you're profitable. Here are a few resources you can use to determine the current market value:
You can get access to your own community's housing stats through your Realtor.
The team at Calvert Home Mortgage puts together an in-depth economic report for both Alberta and Ontario each month. This report highlights many factors you want to keep your eye on such as GDP, economic stats, unemployment, population, bond rates, housing starts, and other economic indicators. We put together an explanation to explain what economic indicators matter most, and how to interpret them. Access "An Economic Roadmap: How to Read the Signs."

(Ontario, May 2022 Economic report)
Being aware of other trends such as migration can help you understand what might happen to the housing market over the next while as well. For example, The Canadian Real Estate Association (CREA) offer statistics from Calgary Real Estate Board (CREB) on migration to Alberta. The report indicates that there was a net increase of 16,510 people to Alberta's population in the first quarter of 2022. This was a combination of international immigration, and inter-provincial migration, both higher than the same period in 2021. Additionally, there was a 12.4% decrease in people leaving Alberta for other provinces this quarter.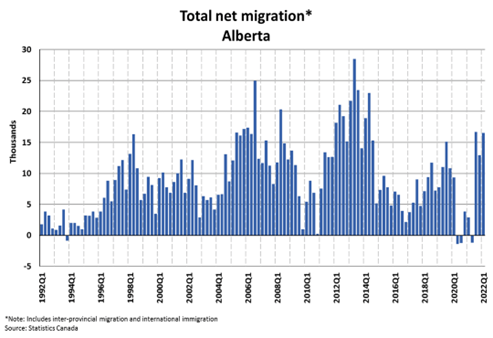 (CREA stats, Alberta Migration)
How does inflation affect you as a real estate investor?
It's no secret that inflation is alarmingly high in Canada: a 40-year high to be specific. This impacts everything from your potential buyers, renters, materials, and labor. Inflation will continue to affect materials and labor, so it's important that you price in some cushion to take care of unexpected increases from these areas. If you account for this in your renovation budget, you will be fine.
Another side effect of high inflation and rising interest rates is far less buying power for individuals. This presents an opportunity on the rental market side. You may have heard how low the rental vacancy rates are now. Just as a few months ago there were many buyers lined up for a single property, now there are many renters inquiring about a listing. Some buyers have been priced out of the market, and even if there were planning to buy, they might now be looking to rent for the foreseeable future. That, in addition to the migration of people from other provinces, particularly to Alberta, increases the rental pool. Lots of people have sold their homes recently that were rental properties that were underperforming and now those rates are being brought up to market value.
So what does all this mean for you?
There are tons of opportunities for real estate investors in this market. You must be more cautious with your investments, be diligent in running your numbers, and work with a strong knowledgeable team, but there are good deals out there and if you stick to your plan, you will be doing your best to make your best profit. Buying right (ie., below market value) is the single biggest success factor. It's important to note too that while recent decreases in some communities are real, and in particular southwestern Ontario, the market is still above what it was 6 months ago.
A slower real estate market means the potential to get lower accepted offers in some cases, less competition, and if you're a buy and hold investor, you can experience increasing rents due to high demand and limited supply.
Remember that while demand is slowing, houses are still selling. Buyers prefer renovated and turn-key properties, so yours is likely to stand out. Monitor the traffic to your listing, and welcome feedback.
We value our relationship and if there's anything we can do to support or if you have any questions or would like to submit a property for us to look at, don't hesitate to reach out. We are happy to discuss the current market trends or your specific project with you at any time.
Rob Maver – rob@chmic.ca
Garrett LaBarre – garrett@chmic.ca
Sherwin Dziwenka – sherwin@chmic.ca